Behold the President of the Billy Graham Evangelistic Association and Samaritan's Purse:
Mayor Buttigieg says he's a gay Christian. As a Christian I believe the Bible which defines homosexuality as sin, something to be repentant of, not something to be flaunted, praised or politicized. The Bible says marriage is between a man & a woman—not two men, not two women. 2/3— Franklin Graham (@Franklin_Graham) April 24, 2019
I am not going to spend a lot of energy on Franklin Graham's hypocrisy. It's exhausting already. Most of us who are not in his bubble find it hard to credit that he cares a great deal about what the Bible says. Trump supporters should not expect their moral claims to be taken seriously in any case. But I do have other questions:
How do Graham's anti-gay views position him in the evolving world of evangelicalism? Is he the old guard that's passing away? Does he represent a committed minority that is not going to change any time soon?
There has been a lot of talk about generational change in evangelicalism, but "evangelicals are becoming more liberal and diverse and concerned about a broader range of moral issues" is the kind of evergreen story that seems to be written every year, and every year the consummation of this shift remains just beyond the horizon. I expect men (yes, men in particular) like Graham to continue to have a large platform for decades to come.
But my best guess is that they'll speak for a smaller constituency. An anti-gay evangelicalism will necessarily be a marginalized community in many ways. But even if the evangelical mainstream was to become thoroughly pro-LGBT tomorrow, it's not clear it would arrest the decline of the movement. The numbers for self-identified evangelicals by age cohort are brutal (as they are for mainline churches as well). American Christians are old, and getting older.
There's no question that white evangelicals are becoming more accepting of LGBT rights. A solid majority now favors legal protections for LGBT people, a remarkable turnaround from the days when most evangelicals spoke openly about wanting to punish LGBT people for their "lifestyle."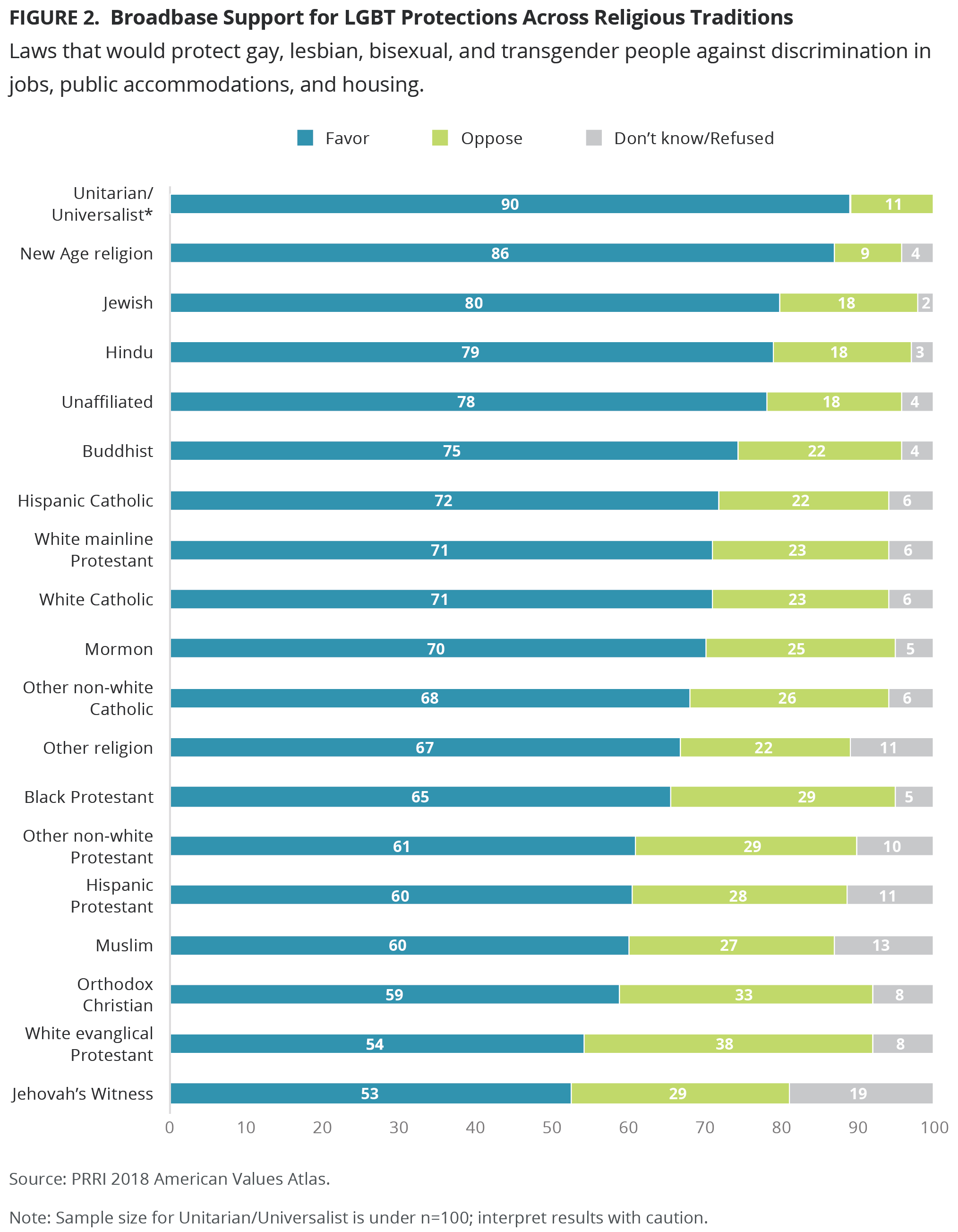 And younger white evangelicals are indeed leading the way: "A substantial majority (63%) of young white evangelical Protestants (ages 18-29) favor LGBT nondiscrimination protections, compared to less than half (45%) of white evangelical Protestant seniors (ages 65 and older)."
But this polling doesn't actually tell us that many white evangelicals would disagree with Graham. They might not want gay people kicked out of their apartments, and they might think "homosexuality is not something to be flaunted, praised or politicized." Indeed, most white evangelicals continue to oppose gay marriage: "About one-third (34%) of white evangelical Protestants support same-sex marriage today, while six in ten (60%) are opposed, including 30% who are strongly opposed. There are notable generational gaps among white evangelical Protestants: four in ten (40%) of those under age 50 favor same-sex marriage, compared to 27% of those ages 50 and over."
There is clearly some measure of generational change, but none of these questions cut to the core claim Graham is trying to make: in his view, homosexuality is sinful. On that point, most white evangelicals of all ages agree with him.
As Sarah Pulliam Bailey wrote:
Some evangelicals believe there's a difference between supporting gay marriage as a public policy matter and gay marriage as sanctioned by churches. A large majority of white evangelicals (including younger generations) continue to see homosexual relations as morally wrong, according to the General Social Survey.

The 2016 survey found 75 percent of white evangelicals saying homosexual sexual relations are always or nearly always wrong. That number is down from 82 percent in 1996 and 90 percent in 1987. The survey does not show a large generational gap, however. In 2014-2016 surveys, 70 percent of Generation X/millennial white evangelicals said same-sex sexual relations are nearly always or always wrong, compared to 81 percent of baby boomers/older generations.
The future of evangelicalism could be pro-LGBT, but it seems at least as likely that pro-LGBT Christians will simply stop identifying as evangelical. White evangelicalism will be a smaller, older movement, and its historic grievances and blind spots will persist. For Franklin Graham, hatred and all manner of cruelty can be excused in service of larger political goals. But a man loving a man–well, that's just too much. We have to draw a line somewhere!