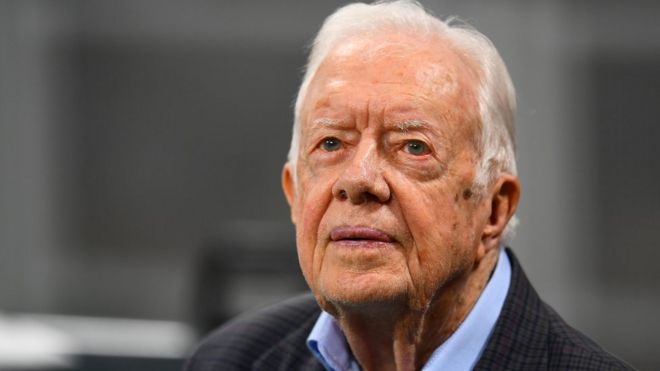 I'm a pro-life Democrat. You wouldn't know it from the positions of party leaders, but there are millions of us. Joe Biden's reversal on the Hyde Amendment last week signaled that, whoever wins the party nomination, millions of pro-life Democrats are unlikely to have their views represented in 2020. Indeed, activists appear to want to drive pro-life Democrats out of the party entirely.
What in the world is a pro-life Democrat to do? I second what John Fea said a couple months ago in a post about Jimmy Carter's brand of pro-life politics: "I think there are a lot of pro-life Democrats out there who would agree with Carter, but they do not make their voices heard for several reasons:"
1. They do not want to be ostracized by the Democratic Party.

2. They are afraid that if they defend the unborn they will be accused of not caring about women's rights.  (This, I believe, is a false dichotomy).

3. They do not want to be associated with the divisive and unhelpful "baby-killing" culture war rhetoric of the Right.

4. They do not endorse the Christian Right/GOP playbook that teaches the only way to reduce abortions is to overturn Roe. v. Wade.
I think this is exactly right. To put it simply, let's unpack the phrase, pro-life Democrat. I'm pro-life because I'm a Christian and cannot be otherwise. I'm a pro-life Democrat because I don't believe patriarchy and free market radicalism have anything to do with protecting life; indeed, they are inimical to it.
I can't make common cause with the right-wing anti-abortion movement. It is thoroughly embedded in the broader activist right, which tends toward dishonesty, racism, and sexism. The imperatives of capitalist extremism govern their activism, so that policies that would reduce abortions are not pursued simply because such policies would upset wealthy people.
But before I become too critical of right-wing activists for letting capital dictate the extent of their efforts against abortion, I can, as a pro-life Democrat, ponder my own similar position and my own complicity. Do I not speak up for fear of causing a break with Democratic activists with whom I otherwise agree? Do I fail to speak with appropriate moral conviction for fear of electoral or social consequences?
I do not believe the right-wing anti-abortion movement is promoting a helpful pro-life agenda, nor do I think overturning Roe v. Wade will usher in the utopia they imagine. But my alienation from the most viable and visible pro-life movement does not free me to sit on my hands. In fact, it adds to my responsibility to act creatively to protect life outside those right-wing channels.
I don't pretend to know at this point what that should look like. I am already trying to pursue a lifestyle that I believe aligns with a Christian ethic of life, but I do not intend to trumpet those personal choices here. In this case I'm thinking more of public advocacy and financial support. What organizations are worthy of our money, our voices, our retweets? Yeah, I said it, retweets matter!
If any readers have given significant attention to these things or are already supporting an organization that you recommend, I'd like to hear about it. I'd like to put my money where my mouth is. Given the data we have on why women choose abortion, it seems intuitively obvious to me that we can significantly reduce abortions simply by empowering poor women. Imagine that.